JEScomplete standard 1 Year "SmartIT"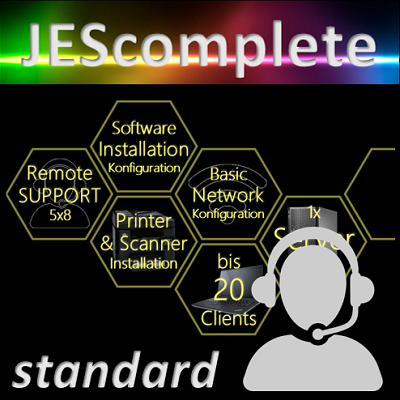 JES Computers SmartIT ! – All-in-one service bundle for startups and SMEs
---
Service-Informations:
---
JEScomplete is the IT solution for startups and SMEs from Jes Computers with affordable refurbished second-hand hardware from the corporate environment and individual IT services - from infrastructure installation and operation to maintenance and support. We take care of the secure setup and operation of your complete IT.
For you, this means that you can concentrate fully on your day-to-day business at all times and know that your IT is in good hands with Jes Computers.
Choose from our four JEScomplete packages the one that suits you best and order it directly here in our online store. Your order, respectively our corresponding invoice are directly valid as maintenance contract. Shortly before your JEScomplete package expires, you will be actively reminded to renew it or to choose another of our offers. If no renewal order is placed, the package will expire at the end of the contract period without any further obligation.
Once you have ordered your JEScomplete package, you will receive a 20% value voucher to order your chosen hardware components at a discounted rate from our online store. Need help choosing your equipment? We are happy to advise you at any time and free of charge.
| | |
| --- | --- |
| Category: | JESComplete / SmartIT |
Scaling:
---
| | |
| --- | --- |
| Client-Computer: | up to 20 Clients (PCs / Notebooks (Dockingstations included) |
| Server: | up to 1 Server |
| Network: | all required components |
| Printers / scanners: | up to 21 devices |
Contract period:
---
Hardware coverage:
---
Consulting and selection of the optimal hardware components
Installation and configuration of your client computers (including cabling)
Installation and configuration of your server hardware
Install and configure your printers and scanners
Installation and configuration of your network components (router / switch)
Installation and configuration backup solution (as needed)
Software:
---
Installation Windows client operating systems (e.g. Windows 10)
Installation Windows Server operating system (e.g. Windows Server 2022)
Installation of your specific software applications
Active Directory, Datei und Printserver
Network / Communication:
---
Configuration of your router (Internet access / firewall)
Configuration standard network
Wireless network (WLAN) configuration
E-mail configuration
Support:
---
| | |
| --- | --- |
| Support hours: | 10h included |
| On-Demand E-Mail System Support: | Monday - Friday |
| | 08:00 a.m. - 18:00 p.m. |
| On-Demand Remote Support: | Monday - Friday |
| | 08:00 a.m. - 18:00 p.m. |
| On-site support: | on request |
| Response time: | 1 hour max. |
Date added: 2021-12-30 16:09:30 / SID: 400559 / DID: